Everything on the Berkeley Haas campus is designed to foster creative thinking, cutting-edge research, and collaborative decision-making.
In our finance lab you can manage and analyze tick-level financial data, enabling the same sort of sophisticated research practiced by top financial institutions. This puts research topics like transaction cost analysis, algorithmic trading, and statistical arbitrage within your reach for class and applied finance projects.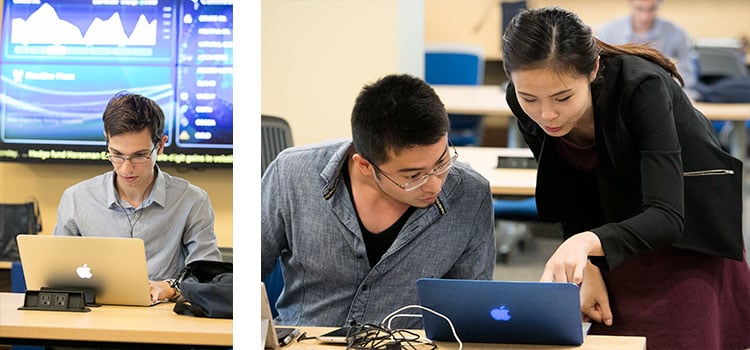 While on campus, you cross paths with students from our top-ranked MBA programs, as well as our PhD and undergraduate programs. This lively mix ensures there is always something going on: speaker series, student-led conferences, networking mixers, and events that unite the entire Berkeley Haas community.

As befits a top-tier program, our Connie & Kevin Chou Hall, opened in 2017, contributes to the well-being of our environment and our students, with LEED and WELL certifications. Whether you're part of a large event or a small study group, you will always find a welcoming spot on campus.
Next: UC Berkeley →